***All campers require immunization records from their Doctor in order to participate in our camps***
Our pool, waterslide, and outdoor zip line will NOT be open for Fall 2020 camps.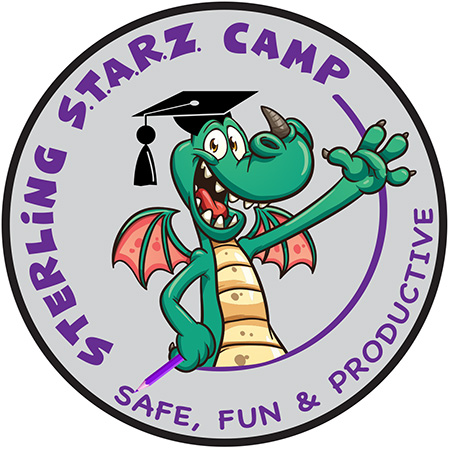 Full Day Sterling STARZ Camp



Cletus the Dragon has been following the local school situation, and decided that he and his favorite purple crayon had to find a way to help our community. Cletus formed a committee of dragons, local school teachers, Sterling Gym coaches, and community advisors who collaborated to put together a remote learning zone at Sterling Gym for kids who are unable to attend their respective schools, while doing so in a safe, kid-friendly environment.
Welcome to Sterling's Technically Adaptable Remote-learning Zone. (STARZ)
It's going to be MORE FUN for your kids!

STARZ Camp is open to local kids ages 6+, (minimum of 1st grade) who are actively enrolled in a local school district's full-remote or hybrid learning platform.

Camp will run by the week, Monday through Friday, 9 am to 3 pm. You are welcome to sign up for any number of individual days, or weeks, or a full month at a time. Sibling and monthly discounts are available. The first week of STARZ Camp will be Sept. 14, unless school systems delay opening.

Our ratio will be 6:1, with students spaced out more than 6 feet apart. Each student will have their own desk and chair, power outlets, germ shield dividers, and Wi-Fi access. All electronic devices, including laptops, tablets, wired headphones, chargers, adapters, batteries, cords, etc, are the responsibility of the parent / guardian to provide. Sterling Gym will maintain a limited quantity of electronic devices for students to use in the event of gremlin attacks. Our staff will do their best to assist your child with access to e-learning platforms, however, gremlins have been known to make sneak attacks, and have been observed wearing highly advanced camouflage. Sterling Gym cannot guarantee 100% internet access uptime, since the internet was not really designed for millions of students to access e-learning platforms, while WFH parents are in zoom meetings, and netflix is streaming HD movies to millions of unemployed workers, all at the same time. What are the odds that the internet could crash in the year 2020?

STARZ Camp will be run by Sterling Gym staff and EEC Certified Teachers. Our staff will be acting solely as educational facilitators who assist with your child's technical needs, and help to keep kids on task. Sterling Gym coaches will also be on hand during all activity periods so your child can release some extra energy by taking advantage of our super fun gyms! Sterling Gym staff are NOT RESPONSIBLE for educational curriculum, assignments, testing, grades. etc. Our staff is limited to facilitating the process of your child's educational needs as provided by their respective school teachers. Our activity areas will be available throughout the day, for when your child is not required to be engaged with their remote learning platform, or has completed all necessary academic assignments.

Registration for STARZ Camp starts with submitting an application form, which can be printed and emailed back to us (photo on phone), or completed electronically and emailed to our front counter. Once accepted into the program, an orientation packet will be emailed to you with all the necessary forms to get your student enrolled. Please note that online registration is not available for this camp. Sterling Gym STARZ Camp directors will need to be able to communicate directly with your child's teacher, and all critical academic information will need to be shared between Sterling Gym staff and your child's school in order to maintain a functional and productive environment.




---
Proper Attire / Lunch



When your child comes to camp they should wear appropriate clothing for physical activity - no baggy clothing, no jewelry, no pockets, zippers, belts, or buckles. A change of clothes is also strongly suggested. A bag lunch is required for every child and a snack for any breaks if desired. Sterling Gym will not be able to provide any food or drinks, so please make sure your child has plenty to eat and drink each day.

Children should also bring sneakers, and seasonally appropriate clothing to play outside, weather permitting. Please leave all jewelry and valuables at home!


---
Camp Tuition



Tuition for STARZ Camp is $65 per day, or $285 per week. For campers attending more than one week, and/ or families with multiple children enrolled, there is a $10 discount for each additional week or each additional child. For any camper enrolling for a month (4 weeks) spot, camp tuition will be $995.00 per month. Discounts may not be combined. For students not currently enrolled in Sterling Gym, there is a non-refundable membership fee of $30 per student.

All camp tuition must be paid in full two weeks prior to selected camp week. A $10.00 late fee will apply to all camp payments received less than 2 weeks prior to your scheduled camp week.

Children must be at least 6 years of age to attend the STARZ Camp, as well as being actively enrolled in a fully remote or hybrid school curriculum.

All participants are required to submit all immunization / medical records prior to attendance in any Sterling Gym Camps. (MA State Law)

Any children with peanut or other serious allergies must inform Sterling Gym of any allergies prior to participating in any Sterling Gym programs.


---
How to Apply




All 2020 STARZ program applications are submitted by email and completed during orientation day.

Applications will be accepted between Aug. 18 and Aug. 21. Acceptance letters will be emailed out no later than Aug. 24, 2020. Click here for application

A deposit of $100.00 per child per week is required to secure a reservation once your application has been accepted, and the balance of the tuition is due 2 weeks prior to each camp week.





Payments may be made by cash, check, and Visa / Mastercard. (we do not accept Discover or Amex cards)

Online registration is currently not available for the STARZ Camp program.

Don't wait - Apply today!


---
Director / Staff



The Program Directors of our STARZ Camp are Allie Ringuette and Kim Mackenzie.
Our facilitators include Miss Emily Ahearn, Miss Maddie Cuozzi, Mr. Dylan Thibeault, and Miss Tara Leger.


---
COVID-19 Safety Protocols



All children participating in Sterling STARZ camp will adhere to all Sterling Gym COVID-19 Safety protocols,
including the following:



Health screening and temperature check at entrance to facility
Face masks worn in all common areas, including bathrooms, and when instructed to do so by our staff
Wash hands at front doors
Sanitize hands and feet upon entering activity area
Maintain their own bag of personal belongings and food / drinks
Maintain all social distancing as recommended by CDC / State / Local guidelines


Team work and cooperation will help us to maintain a safe environment for your children and our staff!