***All campers require immunization records from their Doctor in order to participate in our camps***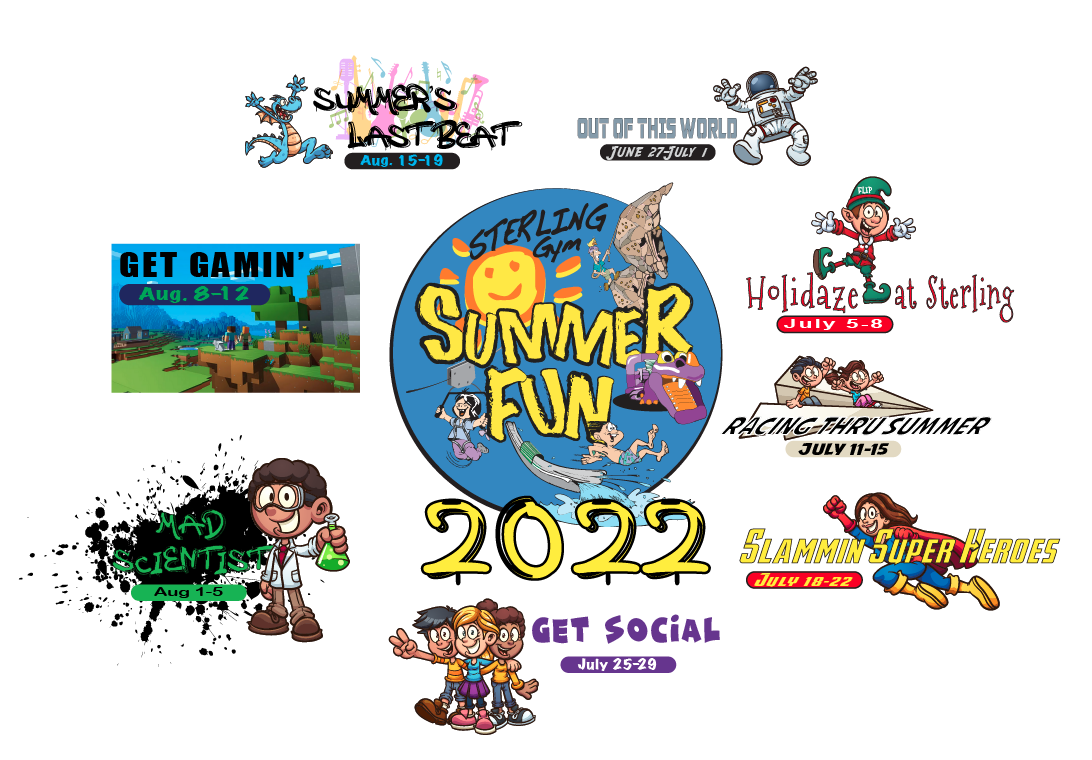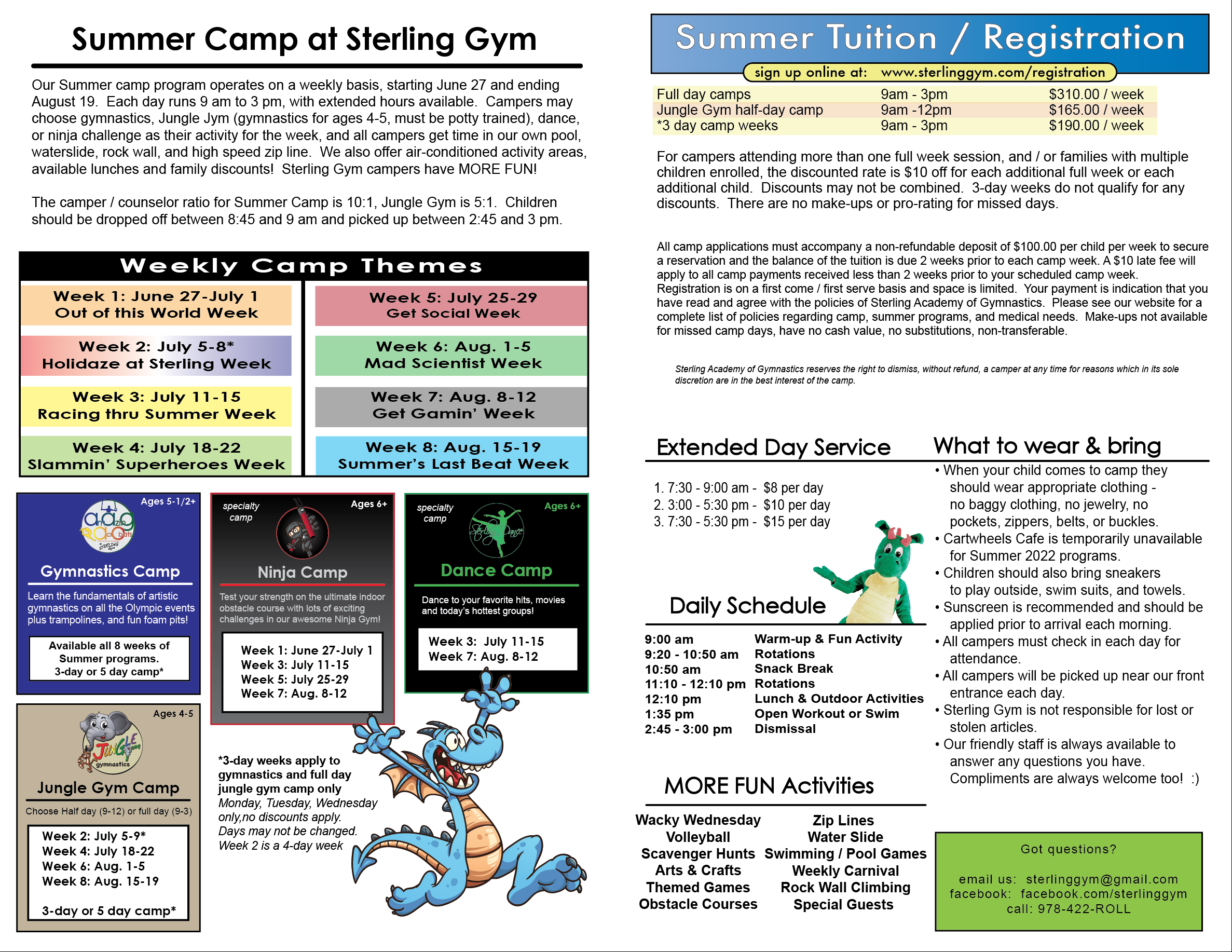 Full Day Camp



Welcome to the 2022 Sterling Gym Summer Programs! It's going to be a great, fun-filled Summer at Sterling Gym, with lots of new faces, new spaces, and expanded programs to keep your kids fit!

Choose your week, 3-day camp or 5-day camp, and choose an activity to focus on - Gymnastics, Jungle Gym (pre-school gymnastics), or one of our specialty camps: Ninja Challenge, or Dance. All campers get to use all the great activities Sterling Gym has to offer, such as our awesome water slide, rock wall, or high speed zip line! We also have air-conditioned activity areas, extended hours, and family discounts! Sterling Gym keeps getting better, year after year!

Our Summer Camp Program operates on a weekly basis, starting June 27 and ending August 19. Each day starts at 9:00 am and ends at 3:00 pm (extended hours available from 7:30 am to 5:30 pm). In the morning, campers will be instructed on each of the Olympic events, including use of the training foam pit, tumbletraks, trampolines, and mini-trampolines, as well as participating in numerous other activities including our rock climbling wall. In addition to the morning gymnastics classes and activities, campers will have a rotation in the pool or water slide to cool off (weather permitting). In the afternoon, campers will engage in a variety of sports activities including volleyball, kickball, as well as non-competitive activities such as a trip down the 300' zip-line, scavenger hunts, or splashing down our water-slide. Please note that all outdoor activities are subject to weather conditions. Campers will finish the day with an open workout where they may choose to practice their gymnastics skills, swim, or choose from a special daily activity.

Any student who has completed Kindergarten is eligible to participate in the Sterling Academy of Gymnastics Full Day Camp. The child must be at least 5 1/2 years of age.

Children should be dropped off between 8:45 and 9:00 am. and picked up between 2:45 and 3:00 pm (unless extended hours are chosen)

3-day weeks

Sterling Gym is now offering 3-day weeks in addition to the full week camps! This camp is limited to full day gymnastics camp only. Days are Monday, Tuesday, and Wednesday only, no discounts apply, and days may not be changed.


---
Half-Day & Full Day Jungle Gym (ages 4-5) Camp
This exciting camp is for children ages 4 to 5-1/2. The camp will run from 9:00 am to 12:00 pm (half-day) or 9:00 am to 3:00 pm (full day). Campers will have the opportunity to do gymnastics, arts and crafts, swim in the supervised pool, have story time, and participate in outdoor activities. Our Pre-School gym and function rooms are air conditioned for comfort! The staff ratio for this camp is 5:1 and space is limited. All campers should bring a healthy snack with them in addition to the proper attire requirements listed in the brochure and on this website.
Half-day camp tuition: $165.00 per week
Full-day camp tuition: $310.00 per week

Week 2: July 5-8
Week 4: July 18-22
Week 6: Aug. 8-12
Week 8: Aug. 15-19

3-day weeks

Sterling Gym is now offering 3-day weeks in addition to the full week camps! This camp is limited to full day Jungle Gym camp only. Days are Monday, Tuesday, and Wednesday only, no discounts apply, and days may not be changed.


---
Dance Camp
(Specialty Camp)
This camp will feature many of the popular activities incorporated in our gymnastics camp, such as water slide and zip line, in addition to the uniqueness of learning all aspects of dance including Hip Hop, along with gymnastics. At the end of each week, parents are invited to watch the Dance Showcase performed by the campers! Kids will get to learn routines from their favorite movies and tv shows along with today's hottest bands. Enrollment is limited, ages 6+ yrs. only.
Tuition is $310 per week.

Week 3: July 11-15
Week 7: Aug. 8-12



---
Ninja Challenge Camp
(Specialty Camp)


Our newest camp incorporates the obstacles seen on the popular TV show, and challenges kids to test their speed, strength and agility against all sorts of scenarios. From tarzan ropes to pinball blocks and just about everything in between, you can test your strength on the ultimate obstacle course.
Tuition is $310 per week.

Week 1: June 27-July 1
Week 3: July 11-15
Week 5: July 25-29
Week 7: Aug. 8-12




---
Summer Session Schedule and Themes
Week 1

Week 2

Week 3

Week 4

Week 5

Week 6

Week 7

Week 8

June 27 - July 1

July 5-8*

July 11-15

July 18-22

July 25-29

Aug. 1-5

Aug 8-12

Aug 15-19

Out of this World Week

Holidaze at Sterling Week

Racing thru Summer Week

Slammin' Superheroes Week

Get Social Week

Mad Scientist Week

Get Gamin' Week

Summer's Last Beat Week

Gymnastics, Ninja

Gymnastics, Jungle Gym

Gymnastics, Ninja, Dance

Gymnastics, Jungle Gym

Gymnastics, Ninja

Gymnastics, Jungle Gym

Gymnastics, Ninja, Dance

Gymnastics, Jungle Gym

Note: Weekly themes will be incorporated into each weeks' activities and campers will be instructed at the beginning of each week on how they will participate in these exciting camps!
---
Daily Schedule
9:00 am
9:30 - 10:50
10:50 am
11:10 - 12:10
12:10 pm
1:35 pm
2:40 pm
2:45-3:00 pm

Warm-up & Fun Activity
Rotations
Break
Rotations
Lunch & Outdoor Activities
Open Workout or Swim
Conditioning
Dismissal
---
Special Activities



Wacky Wednesday
Volleyball
Scavenger Hunts
Arts & Crafts
Zip Lines
Water Slide
Weekly Carnival
Rock Wall Climbing
Special Guests



---
Proper Attire / Lunch
Summer Lunch Menu



When your child comes to camp they should wear appropriate clothing - no baggy clothing, no jewelry, no pockets, zippers, belts, or buckles. A bag lunch is required for every child and a snack for the morning break if desired (fruit is strongly suggested).

Lunch programs availability will be updated at a later date due to COVID-19 guidance.

Children should also bring sneakers to play outside, swim suits, sunscreen, and towels. Please leave all jewelry and valuables at home!


---
Camp Tuition



Tuition for Summer Camp is $310 per week. For campers attending more than one week, and/ or families with multiple children enrolled, there is a discount for each additional week or each additional child. This differs slightly from our school year calendar. Discounts may not be combined.

All camp tuition must be paid in full two weeks prior to selected camp week. A $10.00 late fee will apply to all camp payments received less than 2 weeks prior to your scheduled camp week.

Tuition for Pre-School Half Day Camp is $165.00 per week. The Pre-School Full Day Camp is $310 per week. The same discounts apply as above.

Tuition for 3-day Camp is $190 per week, no discounts apply. Days are Monday, Tuesday, Wednesday only. Days may not be changed. These sessions apply to gymnastics full day camp only.

Children must be at least 4 years of age to attend the Pre-School Camp or at least 5-1/2 years of age to attend the Full Day Camp. All Full Day campers must also have completed Kindergarten.

All participants are required to submit all immunization / medical records prior to attendance in any Sterling Gym Camps. (MA State Law)

Any children with peanut or other serious allergies must inform Sterling Gym of any allergies prior to participating in any Sterling Gym programs.


---
Sitting Service



For parents not able to drop off or pick up campers at our regular hours, there is a sitting service available. This service applies to students enrolled in the Day Camp only. The three options are:

1. Drop off only (7:30 - 9:00 am) $8 per day
2. After camp hours (3:00 - 5:30 pm) $10 per day
3. Drop off and After camp (7:30 am - 5:30 pm) $15 per day


---
How to Register

Customer Portal Registration


A non-refundable deposit of $100.00 per child per week is required to secure a reservation and the balance of the tuition is due 2 weeks prior to each camp week.

Registration is on a first come / first serve basis and space is limited.

All 2022 Summer program applications are completed online by using the link below.

Payments may be made by cash, check, and Visa / Mastercard. (we do not accept Discover or Amex cards)

Online registration is available in our Customer Portal.

Don't wait - Sign up today!


---
Director / Staff



The Directors of our Summer Camp are Kim MacKenzie and Allie Watkins.

Our Summer time staff features enthusiastic members which include all our permanent staff members as well as some new faces. This combination promises to provide another fun-filled Summer program.


---
Parents are required to complete important registration, medical and immunization forms prior to students attending camp, or classes. Without this information, we cannot allow any child to participate in any activities.
&copy 2014 Sterling Academy of Gymnastics. All rights reserved. Web Site Design by Ideations LLC.